Soul of an Engineer #11
This Issue: Ingenuity, War of Art, Xanadu, Slideshows and Humanities
The future of software is open and collaborative.
Open-source contributions of 12,000 developers power NASA's Mars Helicopter Ingenuity. Even the success of commercial API software proves that artful reuse and enabling developer collaboration is the currency of innovation.
That is what I explore in my latest essay - A Lesson in Ingenuity.
---
I am adding a new tab to the blog where I will start summarizing content which has been most influential to me.
I am starting with the summary of Steven Pressfield's book, The War of Art, which has been the single most significant source of inspiration for a fledgling writer like me.
Pressfield argues that The War of Art is an internal war. And to win it, one needs to overcome the internal resistance by realizing one's true self.
You can read my full summary here (Link).
---
There is always more to learn from studying failures than successes.
The modern media environment is drenched in shrill success stories. In contrast, this 1995 WIRED article about Ted Nelson and his project Xanadu is a welcome break.
From the article:
"Ted Nelson's Xanadu project was supposed to be the universal, democratic hypertext library that would help human life evolve into an entirely new form. Instead, it sucked Nelson and his intrepid band of true believers into what became the longest-running vaporware project in the history of computing - a 30-year saga of rabid prototyping and heart-slashing despair."
Nelson had framed the idea of hypertext publishing system, a concept foundational to modern day web long before the web browser became a reality. Yet we don't know much about him.
Nelson failed because he struggled to ship. He wanted to build the perfect system which never happened for one reason after another.
For builders of all kinds, The Curse of Xanadu is a remarkable story to learn from.  
---
Slideshow Instructions
In the midst of ZOOMed out pandemic existence,  this XKCD comic drew a chuckle.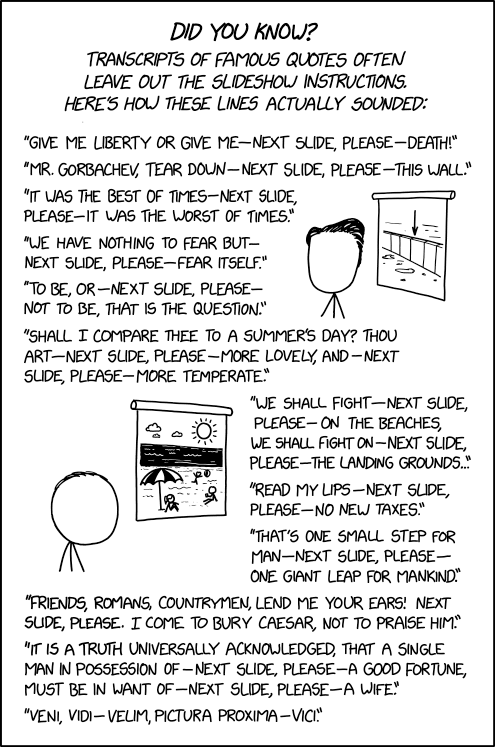 Source: XKCD
---
Afterthought: Humanities
Lewis Lapham on why Humanities are important in a STEM obsessed world.
"A mistake to think of the humanities as luxuries or as a decent appearance that must be kept up, like the country club membership or the house in Palm Beach. Necessities. I can think of no other set of studies more relevant to our present circumstance. Our technologists bear comparison to the sorcerer's apprentice, producing continuously improved means toward increasingly ill-defined ends. Unless we look to the humanities to clean up the mess, we stand a better than even chance of killing ourselves with our new toys."
Source: Merlin's Owl
Subscribe to receive the latest posts in your inbox.